DANGER: This article is a stub and must be improved
in the name of our handsome leader, Hector Con Carne!

This article is a stub. You can help Evil Con Carne Wiki by expanding it.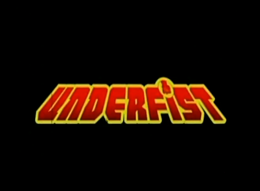 Underfist was an hour-long Halloween special of The Grim Adventures of Billy and Mandy. The movie was going to serve as the pilot of a new series, but due to Maxwell Atoms' contract with Cartoon Network expiring, the idea was scrapped.
General Skarr was going to serve as one of the main cast members of the show, making this the third show, where he'd be a regular character (four if you count Grim and Evil).
Candy monsters attempt to take over the world by attacking trick-or-treaters on Halloween. By chance, Underfist is formed to stop them.
Characters
Edit
Irwin Dracula - Described as half vampire, half mummy, and half nerd.
Hoss Delgado - A kick-butt spectral exterminator, who provides the muscle of the team.
Jeff the Spider - A happy-go-lucky giant spider from the Underworld.
General Skarr - A former megalomaniac villain, turned to the good side.
Fred FredBurger - The loud and stupid Baku, who's best friends with Jeff. 
Community content is available under
CC-BY-SA
unless otherwise noted.